Things to Remember
As the community members in south Florida begin the recovery after the devastating effects of Hurricane Ian, local home builders are warning residents to be aware of scammers that may pose as legitimate contractors.
Individuals who have home damages and cannot live in their homes can apply for assistance through Federal Emergency Management Agency (FEMA). Learn about the application process: https://www.fema.gov/disaster/hurricane-ian#apply
Beware of scam contractors. All professional contractors should be insured and able to show their certificate proving such insurance. Instead, contact the Manatee Sarasota Building Industry Association for a list of qualified professionals.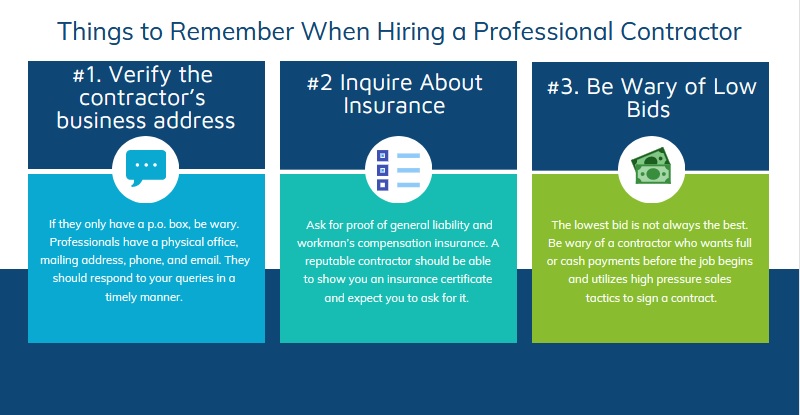 Resources
FEMA Disaster Assistance - Survivors can apply for disaster assistance at www.disasterassistance.gov, by calling 800-621-3362 from 7 a.m. to 11 p.m. Eastern Time, or by using the FEMA mobile app.
Small Business Administration Disaster Loan Assistance - Low interest loans are available to businesses, nonprofit organizations, homeowners, and renters affected by Hurricane Ian.

The first Florida Business Recovery Center opened Monday, Oct. 3, at the Chloe Coney Urban Enterprise Center, 1907 E. Hillsborough Ave., Tampa. Hours of operation will be 9 a.m. to 5 p.m. Monday-Friday and 9 a.m. to 1 p.m. Saturday.
A recovery center at The Hub at SWFL, Inc., 25071 Chamber of Commerce Drive, Bonita Springs, opened at 10 a.m. Wednesday, Oct. 5. The hours of operation will be Sunday through Saturday, 9 a.m. to 5 p.m.
Another center will open at The Naples Players, 701 5th Ave., S., Naples, on Thursday, Oct. 6, from 11 a.m. to 5 p.m. Hours of operation will be 9 a.m. to 4:30 p.m. Monday and 9 a.m. to 5 p.m. Tuesday through Sunday.
Operation Blue Roof - Operation Blue Roof has expanded its service area to also include Collier and Desoto Counties. Homeowners within Charlotte, Collier, Lee, Sarasota, and Desoto counties are now eligible.

The initial sign-up period will end on Sunday, October 23. Residents impacted by Hurricane Ian can sign up at BlueRoof.us or call toll-free at 1-888-ROOF-BLU (1-888-766-3258) for more information. The call center will be open from 8 a.m. to 8 p.m. Eastern Time.
Crisis Cleanup - Florida residents affected by Hurricane Ian's destruction can utilize a free service that connects them to volunteers who can help with debris removal. Crisis Cleanup is working in coordination with various city officials across Florida to connect disaster survivors with volunteers willing to help after Ian's devastation.

Residents who may need assistance with collecting debris and damaged items can call the Home Cleanup Hotline at 800-451-1954 for free assistance from volunteers, local relief organizations, community groups and faith communities. The hotline will be open through Oct. 28.
Legal Help - A free legal help hotline is now available for Hurricane Ian survivors. The hotline is available to connect survivors to free legal services in qualifying counties who cannot afford an attorney. Survivors can call 866-550-2929.

Legal issues hotline callers can help with include:

FEMA and SBA financial benefits.
Home repair contracts and property insurance claims.
Redoing wills and other important legal documents destroyed in the disaster.
Price gouging, scams, or identity theft.
Landlord or tenant problems, or threats of foreclosure.
Disability-related access to federal, state and local disaster programs.
State Assistance Information Line (SAIL) Hotline – Find out how to prepare before/during/after a hurricane, road closures and alternate routes, available/open shelters in host or impacted counties, shelters designed for special needs patients, hotels and motels that accept pets, boaters instructions for moving watercraft to safer ground, and re-entry information once it is safe to return to the affected area. Call 800-342-3557.
Visit Florida - has activated its Emergency Accommodations Module on Expedia to provide real-time hotel availability and lodging resources for impacted Floridians and visitors.