The Manatee-Sarasota Building Industry Association (MSBIA) is working hard for you to keep the building industry designated as an essential industry. As a Member of the federation of the MSBIA, FHBA and NAHB, your business gets the lobbying muscle and benefit of all three entities.
We have been working on the local front with our City and County elected and appointed officials to keep the industry up and running. We have been working side-by-side with our Building Officials to continue to permit intake, plans review and permit issuance, as well as continue all building inspections for permitted projects.
On the state level our Florida Home Builders Association (FHBA) President and CEO have been working to convince our Governor keep Florida open for business and have been successful. Additionally, the National Association of Home Builders (NAHB) has gotten the Department of Homeland Security (DHS) to deem home building as an essential entity.
We are thankful and proud of our daily and weekly efforts, lobbying our governments on your behalf, that have produced effective executive orders and action items to keep the building industry open for business. Let's keep working together to build the American Dream for everyone.
Essential Employee Letter
Essential Industry Employee
Re:      Shelter-in-Place Orders
To whom it may concern:
Please be informed that the bearer of this letter is employed at [COMPANY NAME], located at [COMPANY ADDRESS].  The Company is a [name type of contractor].  We have reviewed all applicable Orders and have determined that our operations qualify as essential/critical infrastructure and that we are able to continue to operate under those Orders.
Employees in possession of this letter have been deemed essential to the minimum basic operations of our business.  All non-essential personnel have been notified to work remotely until further notice.  Employees who are critical to the minimum basic operations of the business have been instructed to comply with social distancing rules/requirements in the jurisdiction, as well as other safety and health precautions.
If you have questions regarding the nature or scope of this letter, please do not hesitate to contact [insert contact name] at [insert contact number and/or email].
Sincerely,
 EXECUTIVE NAME
Essential Employee Letter (Spanish)
Building Industry Updates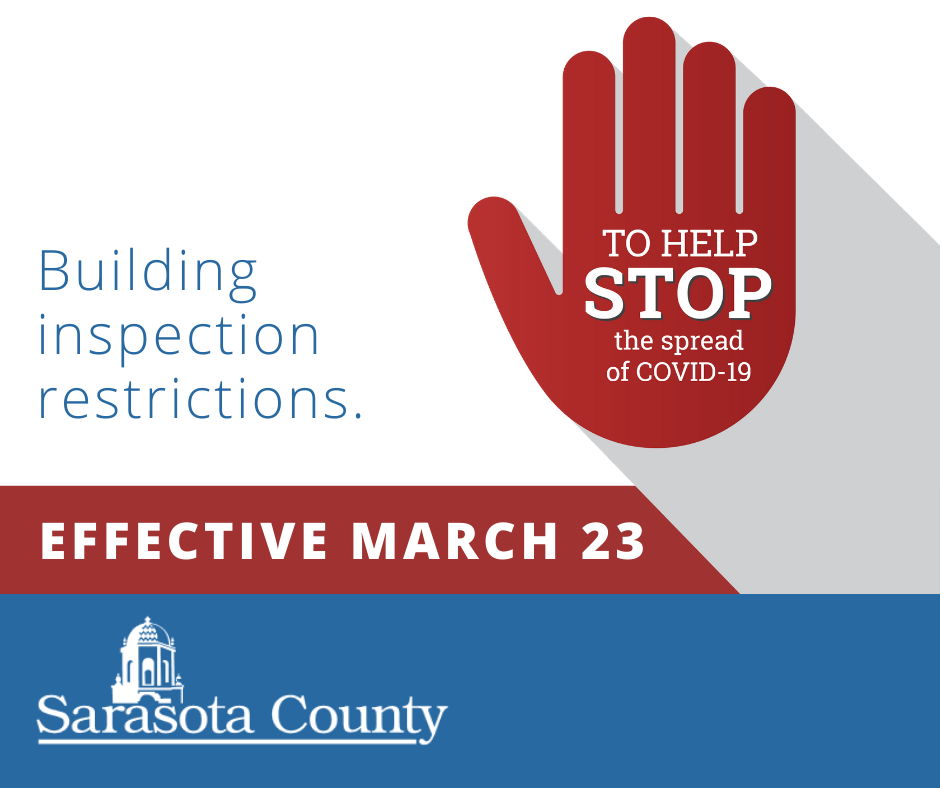 SARASOTA COUNTY
Effective Monday, March 23, Sarasota County's Permitting Center and Utilities Customer Services at 4000 S. Tamiami Trail will move temporarily to 1001 Sarasota Center Blvd., Sarasota.
Customers are encouraged to conduct business by using any of the phone, email and online service options. Customers who come in-person will experience increased wait times and will be health screened. You can find basic information about any of the following services by typing what you need in the HOW MAY WE HELP YOU box on the home page of scgov.net.
You can also visit the link below for up to date info on the Building Division and for links/phone numbers/etc. for electronic service delivery: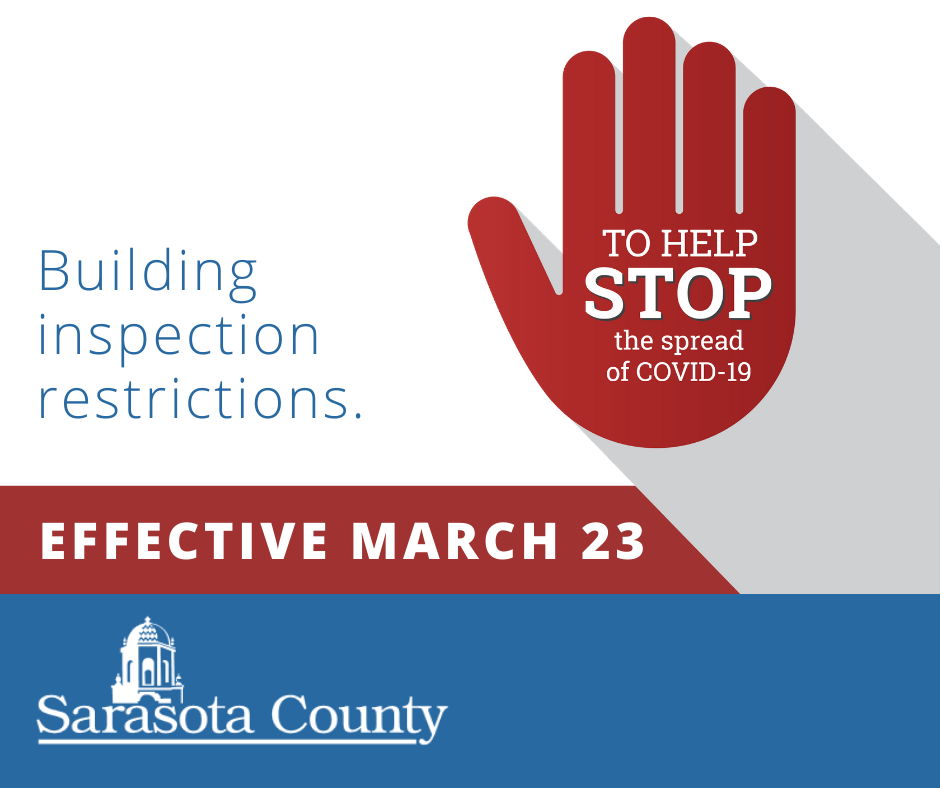 SARASOTA COUNTY: Occupied Structures Inspections Update
1. Window and Door installations in occupied structures will be suspended that cannot be inspected from the outside of the structure. Inspections will need to be scheduled during acceptable operational periods prior to hurricane season.
2. Plumbing Re-pipes - owner/contractor take photos and/or videos to be shared via email or attached to the permit card for inspector to verify minimum code
compliance. PHOTO/VIDEO MUST INCLUDE THERMAL EXPANSION DEVICE, SHUT OFF VALVES, TYPE OF MATERIAL USED, TEMPERATURE/PRESSURE RELIEF VALVE ON WATER HEATER, WATER HAMMER ARRESTOR, VACUUM BREAKERS AT HOSE BIBS. INCLUDE PICTURE OF ADDRESS ON HOME.
3. Pool Safety- Occupied structures- The inspector will remain outside of the
structure. When window/door alarms are chosen as the pool safety option the owner/contractor will need to open each window/door to activate the audible alarm. Once activated the inspector can insure minimum code compliance. If the inspector is unable to determine compliance of all or any openings through this method or any other means the inspection will need to partial'ed less the area not able to be visually inspected. The partial will allow the pool to the filled and the outstanding item to be scheduled at a later date.
4. Pool Electrical Final- Occupied structures- If the electrical panel is inside the house have the owner/contractor take a photo/video of the panel box. PHOTOS/VIDEOS MUST INCLUDE THE BREAKER FEEDING POOL/SUB-PANEL POOL EQUIPMENT. The photo and/or video can be shared with the inspector via email or left with the permit card. If the panel is located in the garage and no photos are provided have the owner/contractor open the garage and electrical panel doors to inspect. The owner/contractor will remain in the house or outside the structure while the inspector is performing inspection.
5. Mechanical Change Out (If Air Handler is in the house)- owner/contractor take photos and/or videos to be shared via email with the inspector to verify minimum code compliance. PHOTOS MUST BE WITH PERMIT CARD ALONG SIDE AIR
HANDLER. PICTURE MUST INCLUDE MINIMUM AMPACITY, MAXIMUM BREAKER SIZE, WIRE SIZE, DISCONNECT AND CONDENSATE DRAIN. If the photos or video are unclear and the inspector cannot make a full inspection the inspection will be cancelled and scheduled for a later date. If the units are outside or in garage photos/video can be provided or the inspection can be performed.
6. Electrical Service Change- (When the panel is located within the
house/condo/habitable structure, the building is without power and the electric purveyor requires approval to energize.) Owner/contractor take a photo/video of the panel box. PICTURE MUST INCLUDE THE BONDING SCREW, MAIN BREAKER SHOWING BREAKER SIZE AND FEEDER WIRE CONNECTION TO THE MAIN BREAKER. The photo and/or video can be shared with the inspector via email or printed photos left with the permit card. If the inspector is able to verify compliance, the inspection will receive a partial to establish power only. The partial would be ok'ed for energizing and the panel would still need to be inspected at a later date for remaining code compliance. If the panel was energized prior to inspector's arrival, then cancel the inspection and schedule for a later date.
7. Final and rough inspections in an occupied structure. (Electrical, mechanical, plumbing, gas and building ) If the occupant/contractor can provide a clear path to improvement area and the inspector has no concerns and the area is open the inspector can perform the inspection. The inspector has the ability to cancel the inspection, if they feel unsafe or have any concerns about entering the structure. The inspection can be scheduled for a later date. Vacant structures will be inspected with normal procedures.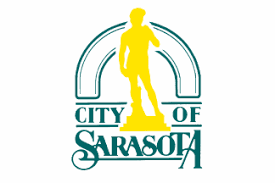 CITY OF SARASOTA
In order to ensure the health and safety of our clients and staff the following modifications have been implemented.
Permit intake:
Our permit intake will be closed until March 25,2020 as additional protective measures are being installed within or permitting area. When it reopens staff will be remains open and staff is sanitizing work areas after each client has been served. The intake area will be limited to 5 clients at a time with the overflow being asked to leave their contact information and to wait in their cars until called. We also request that our clients utilize our online permitting for all over the counter permitting. We also request that clients use phone and email as often as possible to minimize the trips to the Division. This will address the social distancing requirement as requested.
Phone contact. 941-263-6494
Email contact: subnocroof@sarasotafl.gov
Plan review:
Plan review is still being conducted but in office visits to discuss review comments are suspended until further notice. We request that our clients call or email questions about review comments directly with their plan reviewer.
Inspections:
We are still conducting inspections of all permits, but Inspectors are to ask the client if anyone in the home has been sick, ill or not feeling well if the answer to any of these questions are yes, the inspection will be canceled. We ask our clients not schedule an inspection if anyone in the home is sick, ill or not feeling well. We have instructed all staff to follow the CDC guidelines on hand washing and social distancing of 6 feet. This also applies to Code Compliance inspections.
We hope that these simple measures will allow us to continue to serve our clients during this declared pandemic and hope that with your cooperation and self-reporting of any illness, will allow us to get through this event without further controls being implemented. If you have any questions, please feel free to call 941-263-6504. I want to thank everyone for their patients during these extreme times and know that we are all in this together.
Lawrence P. Murphy
Building official
City of Sarasota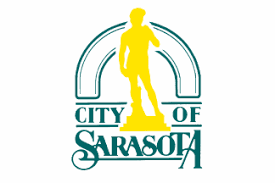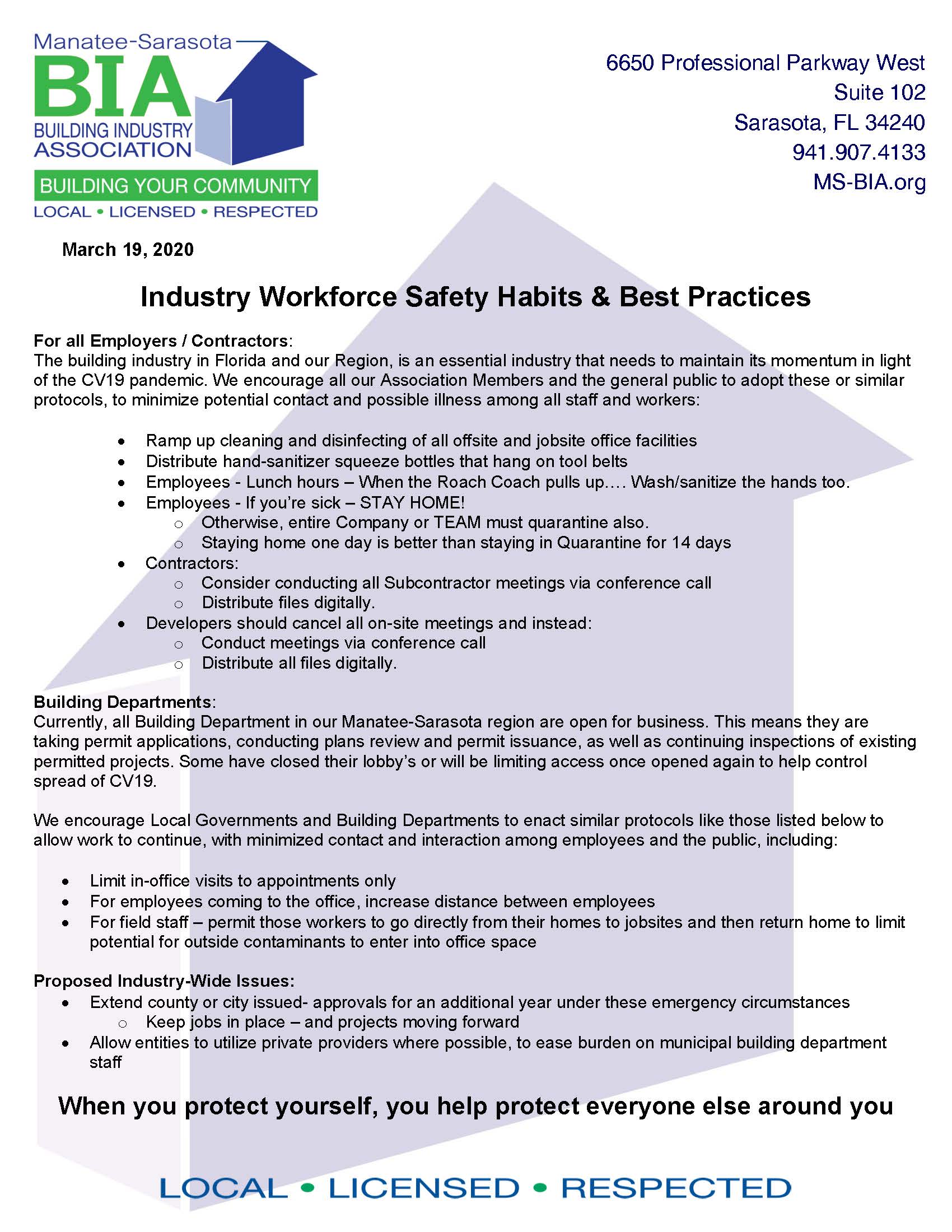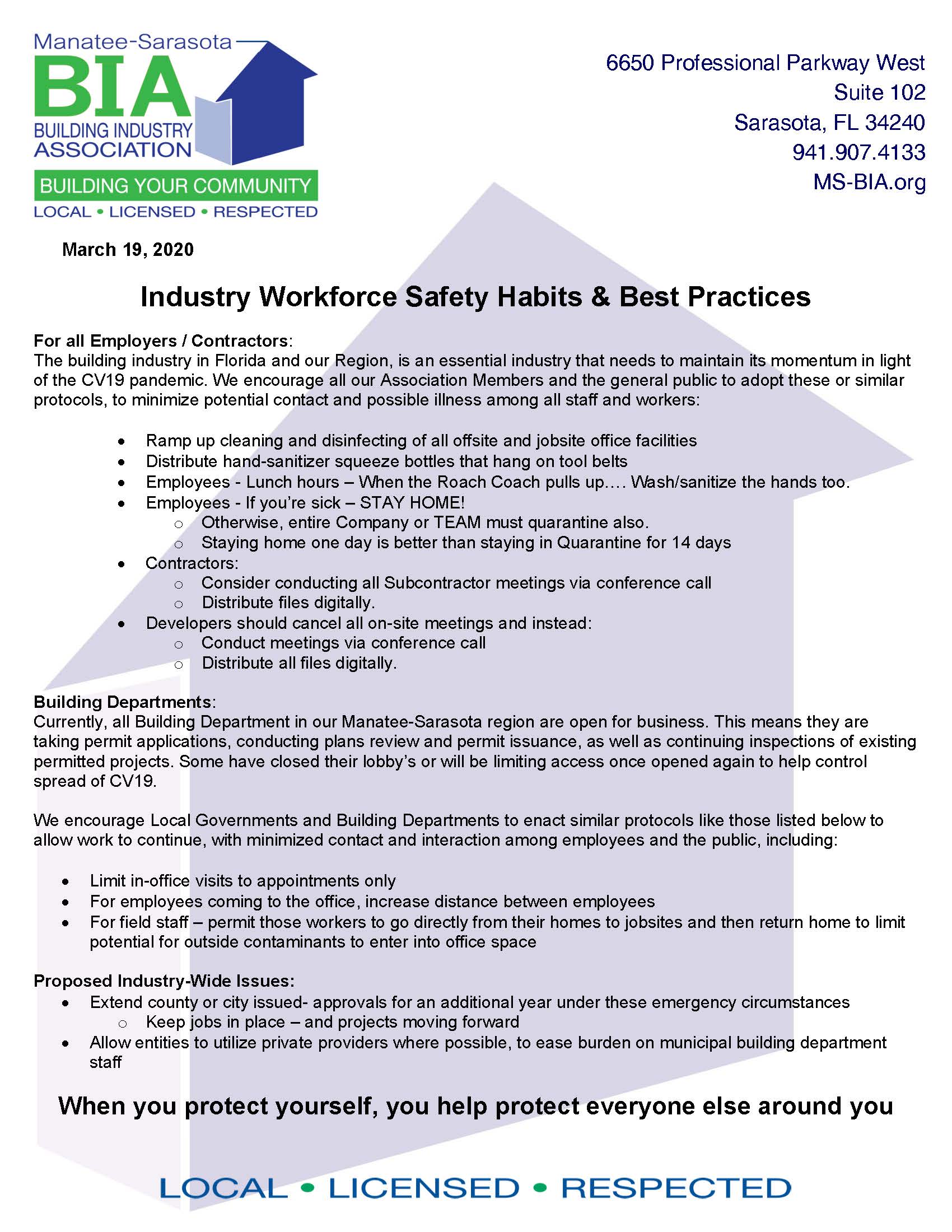 Sarasota County Tax Collector
For additional information, contact Rana Moye or Barbara Ford-Coates at 861.8430.
 TAX PAYMENT AND DRIVER'S LICENSE EXTENSIONS
Sarasota County Tax Collector Offices closed to the public on March 20th, but staff are working behind the scenes to help customers and answer questions about deadline extensions.
"In light of the challenges presented by COVID-19, the Governor has extended deadlines for 2019 property tax payments and certain driver's license and ID card renewals," shared Tax Collector Barbara Ford-Coates.
Extensions:
2019 tax payments - accepted through April 15, 2020 without penalty. Although offices are closed, payment can be made at www.SarasotaTaxCollector.com, through the mail or in a 24-hour drop box.
Driver's licenses, commercial driver's licenses or ID cards expiring between March 16th and April 15th - valid an additional 30 days. Renewals during the extension period will not have delinquent fees charged. Driver's licenses and ID cards can be renewed at www.GoRenew.com.
Customers needing assistance completing any online transaction should call 941.861.8300.
Visit www.SarasotaTaxCollector.com or www.facebook.com/SarasotaTaxCollector for office updates and information.
"We appreciate the public's continued understanding during this challenging time.  We are focused on doing whatever we can to assist our customers while ensuring the health and safety of our staff and customers." Ford-Coates noted.